Continuing education credits are available through three of the resources contained on the HEALWA site. After you have logged into HEALWA, you can visit:
Natural Medicines, (formerly Natural Standard) – Click on "CE/CME Center" toward the top of the page. You will be asked to establish a CE ID #. Natural Medicines offers two series of Continuing Education courses: Clinical Management and Monograph-Based. The Clinical Management courses are focused on clinical management of disease states and medical conditions. The monograph-based courses are focused on safety and effectiveness of natural medicine ingredients.
Nursing Reference Center Plus – Click on the tab labeled "Continuing Education." You will be asked to set up a separate user name and password for the Continuing Education resources. After logging into the CE portal, you must choose "Nursing Reference Center Plus" when presented with a list to choose from. (please see the photo below) When you have taken the final test for a module, you may print out a certificate. Also, your Continuing Education hours are tracked and you may view your transcripts of your accrued hours.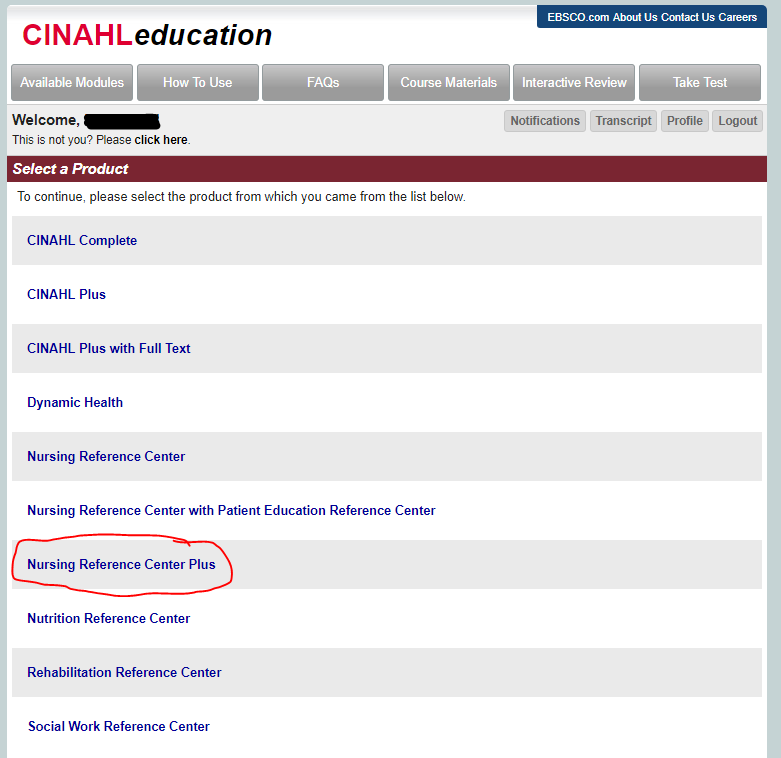 Free CE Courses from UW – A catalog of all of the free CE options UW offers.
Shared decision making training
A free SDM training course. The American Academy of Family Physicians (AAFP) approved this training for continued medical education (CME) credits. Our SDM training is approved for 1.5 AAFP Prescribed credits. CMS credit is approved through April 3, 2024.
The Continuing Education modules offered via these databases may not apply to every health profession group eligible for HEALWA. HEALWA staff does not manage CE for health professionals, but simply provide access to the databases where the resources are available. If you need assistance with your professional continuing education, please contact the appropriate agency with oversight for your professional licensing/certification.